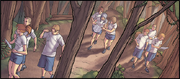 The forest is a located in the back of the academy, and is where the faculty hold their annual Woodrun competition. The forest holds many secrets, such as the entrance to the time traveling cave[1] and the Laboratory that Zoe and Hunter found.[2]
Notable Appearances
[
]
After her failed attempt to kill the Headmaster, Irina hid in these woods.[3]
When the kids are displaced in time, The Tower[5] and Hunter's office[3] were accessible through the forest.
References
[
]