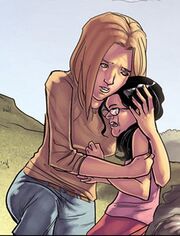 Susan Dagney is the Residence Director at Morning Glory Academy. She appears to have a long history with the school, having been there since its founding fourteen years ago.
Unlike most of her colleagues, she seems to show at least some concern for the students' well-being.
Before The Academy
[
]
Miss Dagney was an associate of The Headmaster for at least twenty-five years, and acted as a midwife during Lara Hodge's birth. Miss Dagney seemed momentarily apologetic before the mother was injected in the neck by a young Nine.
Five years later, Dagney was supervising Lara and Georgina when they were attacked by a man named Ted, who threatened to kill Georgina. As the five-year-old Lara assured Dagney that Ted was not "one of them", Dagney ordered the security team to shoot, killing Ted. Dagney assured Georgina that her father would never let anything bad happen to her.
Seven years later, Dagney was conducting a test with Georgina and Lara to read a seemingly blank piece of paper. Georgina was unable to, but Lara read aloud the details of someone who refused to get another dog after their last one was hit by a car. Georgina stormed off, and Dagney comforted Lara, who felt guilty. Dagney explained that Lara's ability to read the blank paper came from her mother. She then told Lara that it would be her and her sister's job to teach the future students "to stop running", and that she must first prove her love for her father.
Georgina was chosen to lead the school, and as the first students arrived, Dagney suggested to Lara that perhaps her father will eventually choose Lara. Lara insists he won't, but claims she doesn't care.[1]
New Arrivals
[
]
Miss Dagney held a presentation for the new arrivals, which had several peculiar images, including the spinning device, and a man killing a goat in front of a child.[2]
She is next seen assigning detention to Jade and Zoe after the former is attacked by Pamela. After Jade attempts to drown herself, Dagney is seen speaking with Nine, and though she doesn't attempt to free Jade, she seems apprehensive about what Nine is planning to do to her.[3]
P.E.
[
]
At the Woodrun, Dagney is one of the faculty assigning teams, and pairs Casey with Jade and Ike.[4]
Information
[
]
Susan Dagney has appeared in 15 issues to date:
Morning Glories Wiki has 4 images featuring Susan Dagney
References
[
]