Pamela

Vital statistics
Birthday
May 4
Age
16
First Appearance
Morning Glories 1

Other info
Physical description
Gender
Female
Hair Color
Brown
Eye Color
Green

Image gallery (4)
"
Oh My God!!! We are gonna be...The Best.Friends. Ever! Ever Ever!!!
"

–Pamela[1]
Pamela is the roommate of Casey, Jade, and Zoe, and is also the Resident Adviser for their floor.
She is extremely excitable and prone to violent mood swings, including screaming at Casey and Zoe for talking about her[2], and stabbing a knife into Jade's bed while she slept.[3]

Winning Woodrun by collecting all the flags meant a lot for Pamela, to the point that she cut Sven's ear off "because he would not listen".[4]
Pamela is revealed to have also been the roommate of Irina, Vanessa, and Akiko.[5]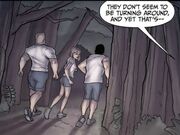 Information
[
]
Pamela has appeared in 12 issues to date:
Morning Glories Wiki has 4 images featuring Pamela
References
[
]